A Game of Hangman is a recording made in Outlast 2.
It is acquired by filming a drawing of a hangman on a wall with Jessica's name written all over it in Inner Demon.
Like all recordings made in St. Sybil High School, the footage recorded is replaced by static.
Transcript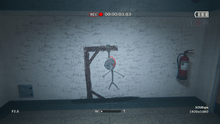 Loutermilch (in reverse): I'm weak, but you are strong for me. How generous. You gave me life, you gave me talent.