A Letter to Mom is a document in Outlast 2.
It is located inside a baby carriage hidden in a corner just after jumping out of the schoolhouse's upper floor in The Chapel.
Content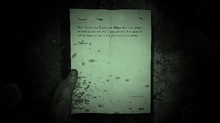 "Mommy-
Miss Carson sed I culd not tel you wut thar gonna do but she did not sae I culd not rite it so plees do not let them kil me. I love you and I love you daddy.
Juliana"