Death of Hope is the final note in Outlast.
It is acquired automatically by recording Billy's death inside the pod after deactivating his life-support system.
Content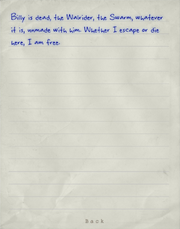 "Billy is dead, the Walrider, the Swarm, whatever it is, unmade with him. Whether I escape or die here, I am free."
Trivia
Death of Hope and Death of the Soldier are the only notes that will be automatically acquired, regardless of the player's actions.