Dr. Wernicke Death Certificate is a document in Outlast.
It is located in one of the holding cells after escaping The Twins on the right side of in Prison Block.
Content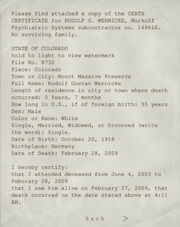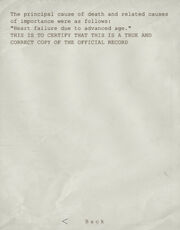 "Please find attached a copy of the DEATH
CERTIFICATE for RUDOLF G. WERNICKE, Murkoff
Psychiatric Systems subcontractor no. 148616.
No surviving family.
STATE OF COLORADO
hold to light to view watermark
File No. 8732
Place: Colorado
Town or City: Mount Massive Preserve
Full Name: Rudolf Gustav Wernicke
Length of residence in city or town where death
occurred: 0 Years, 7 months
How long in U.S., if of foreign birth: 55 years
Sex: Male
Color or Race: White
Single, Married, Widowed, or Divorced (write
the word): Single.
Date of Birth: October 20, 1918
Birthplace: Germany
Date of Death: February 28, 2009
I hereby certify:
that I attended deceased from June 4, 2003 to
February 28, 2009
that I saw him alive on February 27, 2009, that
death occurred on the date stated above at 4:11
AM.
The principal cause of death and related
causes of importance were as follows:
"Heart failure due to advanced age."
THIS IS TO CERTIFY THAT THIS IS A TRUE AND
CORRECT COPY OF THE OFFICIAL RECORD"
Community content is available under
CC-BY-SA
unless otherwise noted.