If I Die is the first note in Outlast: Whistleblower.
It is automatically acquired when Waylon picks up the Camcorder.
Content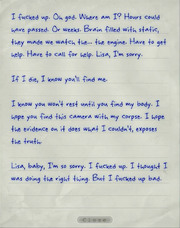 If I die, I know you'll find me.
I know you won't rest until you find my body. I hope you find this camera with my corpse. I hope the evidence on it does what I couldn't, exposes the truth.
Lisa, baby, I'm so sorry. I fucked up. I thought I was doing the right thing. But I fucked up bad.
Trivia
This is the only note in Outlast: Whistleblower to be automatically acquired.