Let It Burn is a note in Outlast.
It is acquired by recording the Pyromaniac addressing Miles in the burning cafeteria of the Male Ward.
Content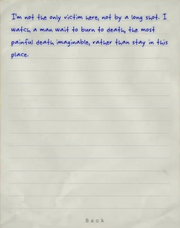 "I'm not the only victim here, not by a long shot. I watch a man wait to burn to death, the most painful death imaginable, rather than stay in this place."