Letter from Nick to Knoth is a document in Outlast 2.
It is located on a table directly across the front doors to the chapel as you enter in The Chapel.
Content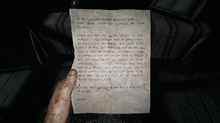 "TO THE REVEREND PROPHET SULLIVAN KNOTH FROM LAIRD BYRON AS RECORDED BY NICK TREMBLAY
THANK YOU FOR THE EXTRA COPIES OF YOUR GOSPELS, I HAVE GIFTED THEM TO THOSE AMONG MY FLOCK WITH THE BRAINS AND EYES STILL INTACT SO THAT THEY MAY READ. BUT WE ARE IN NEED OF MORE SACRAMENTAL BOTH FOR DRINKING IN COMMUNION AND FOR COMFORT FROM OUR PAINS AND DISINFECTION OF OUR SORES. MY FLOCK COMPLAINS THAT YOU HAVE PROMISED MORE THAN GIVEN, AND THOUGH I CAN QUITE EASILY CONTROL THEM BY THE FIRM TENOR OF MY VOICE AND THE HEAVY FIST OF MY MOUNT, I PREFER THE GENTLE PATH.
YOU ARE MOST BELOVED OF GOD AND A HOLY GIFT TO US ALL.
LAIRD"