Letter from a Husband is a document in Outlast 2.
It is located near the cornfield barn house in The Fields, partially slipped under a door to one of the houses.
Content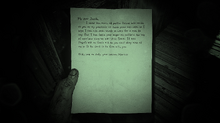 "My dear Judith,
I never ben much at puttin feelins into words, as you as my yokemate all these yeres well nown so I hope I can rite down whats so hard for a man to say. But I ben feelin your anger an sufferin the lak of relations sinse we killt little Sarai. It was Papa's will an God's will an you cant stay mad at me or Ill be forst to be firm with you.
With love an duty, your husban Marcus."