MKULTRA Program Excerpt is a document in Outlast.
It is located on the right side of the room next to the doorway to the Courtyard, before exiting the Male Ward.
Content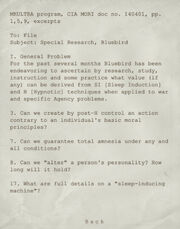 "MKULTRA program, CIA MORI doc no. 140401, pp. 1, 5, 9, excerpts
To: File
Subject: Special Research, Bluebird
I. General Problem
For the past several months Bluebird has been endeavoring to ascertain by research, study, instruction and some practice what value (if any) can be derived from SI [Sleep Instruction] and H [Hypnotic] techniques when applied to war and specific Agency problems.
3. Can we create by post-H control an action contrary to an individual's basic moral principles?
7. Can we guarantee total amnesia under any and all conditions.
8. Can we "alter" a person's personality? How long will it hold?
17. What are full details on a "sleep-inducing machine"?"
Community content is available under
CC-BY-SA
unless otherwise noted.