Mount Massive Asylum has other uses. Please see Mount Massive Asylum (Disambiguation) for other meanings.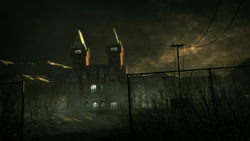 Mount Massive Asylum for the Criminally Insane[1] is the setting of Outlast and Outlast: Whistleblower. It is located in the remote mountains of Lake County, Colorado, USA.
History
1945 - The O.S.S. initiates Operation Paperclip, recruiting scientists from Nazi Germany to conduct research for the USA.[1]
1967 - Mount Massive Asylum for the Criminally Insane is established. Three scientists are murdered by an unknown patient. Authorities order the asylum to cease all activities.[1]
1971 - Mount Massive Asylum is finally closed.
1972 - CIA Director Richard Helms orders all MKUltra files to be destroyed. A small number of documents survive, scattered throughout the asylum.[1]
2009 - The clinic was re-opened by the Murkoff Corporation, which for the next several years conducts illegal experiments on patients with the sole purpose of gaining profit.
2012
October 4, 2012 - An anonymous employee, later revealed to be Michelle Haas, files a complaint to Murkoff's Human Resources regarding patient and staff's safety issues at the asylum.[2] Over the course of next few days, The Pauls, the company's litigation officers, discover that Richard Trager had sexually assaulted Michelle and attempted to cover it up. The incident resulted in Haas being given a severance package in exchange for her silence and Trager transferred down to the Underground Lab to be used as one of the Morphogenic Engine's test subjects.[3]
2013
September 17/18 - The Walrider escapes and starts wreaking havoc, indirectly inciting the fatal incident. A few hours later, investigative journalist Miles Upshur arrives to the asylum after receiving an anonymous tip about Murkoff's illegal activities.
Personnel
1950s - 1960s
Photos of former personnel (1950-60's) still hang in the Asylum.
2000s
Locations
Trivia
Gallery
References