New Temple Gate is a recording made in Outlast 2.
It is acquired by filming the main town of Temple Gate from afar in Temple Gate Town Square.
Transcript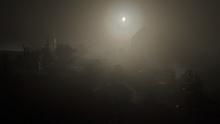 Blake: The chapel. I could see the chapel. How far did this go? A feeling in my teeth like the sound of scissors.