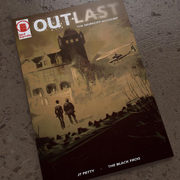 Outlast: The Murkoff Account is a six issue comic series published by Red Barrels, written by JT Petty and illustrated by The Black Frog. The comic ran from July 11, 2016[1] to November 17, 2017[2] as a free online download. Its primary focus is to bridge the gap between the first and second game's storylines, starring two Murkoff employees tasked in settling out company-related legal issues.
The comic series was compiled in a 128 pages long graphic novel released on October 27, 2017. It includes the first five issues and a bonus epilogue which was also made available online on November 17, 2017, when the graphic novels were first shipped.[3][4]
Epigraph
"The trans-national MURKOFF CORPORATION tirelessly pushes the frontier of scientific research and development. Partnering with the greatest minds of tomorrow, Murkoff expands the reach of every branch of scientific inquiry, including gene therapy, behavioral psychology, information technology, and medicine.

In the event of mistake or oversight, the MURKOFF INSURANCE MITIGATION DEPARTMENT comes in to minimize economic fallout. Mitigation Officers are damage control. They are not here to save the lives or help people, they are here to make sure it doesn't cost the company any more than it has to."
―Opening
Story
Issue 1
Paul Marion and Pauline Glick are recovering after the former sabotaged Murkoff Corporation. While Marion is telling his story to the FBI after giving himself up, Glick is helping Murkoff find her former colleague. They start at the beginning of their work together, back in late 2008, when they investigated The Hat Box Murders among the patients of a Murkoff institution, the Spindletop Psychotherapy Clinic for Iraq veterans in Hattin, Texas.
Issue 2
Marion and Glick continue their story years later, when they were paired to uncover the origin of an anonymous complaint and threat from a Murkoff employee among Mount Massive Asylum.
Issue 3
The Pauls tell their track of Waylon Park right after the Mount Massive Asylum Incident in 2013, when they followed a link between Miles Upshur, accidental witness, and William Hope, former patient of the Morphogenic Engine program.
Issue 4
The investigation of the Mitigation Officers on Waylon Park is unsuccessful but brings the attention of an unknown watcher on Paul Marion.
Issue 5
Marion lies to Glick and investigates the coordinates given to them by Simon Peacock after they agreed to ignore his warnings, which leads him to Temple Gate in the Arizona desert.
Epilogue
TBA
Issues
External links
References