Outlast Original Soundtrack (OST) is a compilation of soundtracks and music cues created and scored by Samuel Laflamme for Outlast and Outlast: Whistleblower and published by Red Barrels.
The album consists of 52 tracks; 43 from Outlast and 9 from Outlast: Whistleblower. An interview of the composer, "Outlast: Composing the Score - Samuel Laflamme", details their creation and composition.[1]
The soundtracks can be purchased from Red Barrels' official website, iTunes, Amazon or listened for free on the artist's YouTube account.[2] Additionally, Laflamme uploaded three unreleased tracks for the first anniversary of the game.[3]
Vinyl
In early 2019, Outlast: Trilogy of Terror - The Anthology, a double LP vinyl set featuring the music from the first two games, was released under license by SPACELAB9 on two glow-in-the-dark and black splatter vinyl pressings. Cover is textured on the front logo and inside art and has die-cut "peep-hole" through which different bloody scenes can be viewed depending on how the insert is placed, with glow-in-the-dark ink revealing hidden messages on the jacket. The insert features credits, liner notes and game art with spot varnish. The title featured on the album's spine is misspelled as "Trilogoy" instead of "Trilogy". The "Glow-In-The-Dark" vinyl was limited to 200 copies, whilst the "Rain of Blood" splatter variant featured at SPACELAB9's New York Comic Con booth was limited to 250.[4][5][6]
Composing the Score
While not being part of the game, this video shows the composing, creation and scoring of the Outlast OST by Samuel Laflamme.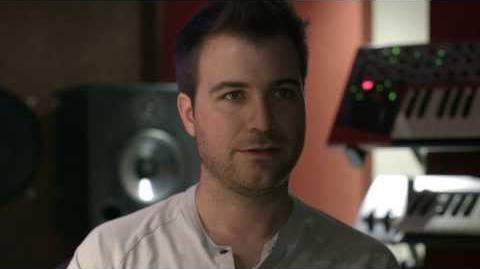 References
Tracks