Permission to proceed is the final document in Outlast.
It is located on the upper floor of the Sublab generator room (Block E), on the desk in the Underground Lab.
Content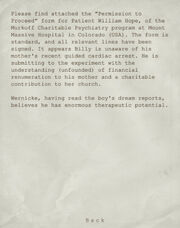 "Please find attached the "Permission to Proceed" form for patient William Hope, of the Murkoff Charitable Psychiatry program at Mount Massive Hospital in Colorado (USA). The form is standard, and all relevant lines have been signed. It appears Billy is unaware of his mother's recent guided cardiac arrest. He is submitting to the experiment with the understanding (unfounded) of financial renumeration to his mother and a charitable contribution to her church.
Wernicke, having read the boy's dream reports, believes he has enormous therapeutic potential."
Trivia
This document implies that Murkoff had Billy's mother killed to avoid complication with his internment prior to his involvement in the Morphogenic Engine program. This contradicts another document which states that by 2012, his mother was in the middle of a lawsuit against Murkoff and the asylum. Furthermore, his mother is still alive in the 3rd issue of Outlast: The Murkoff Account and had her silence bought by Murkoff.
Community content is available under
CC-BY-SA
unless otherwise noted.