Persecutorial Delusions is a document in Outlast.
It is located in the back of a locker room, after meeting up with Father Martin in the Male Ward.
Content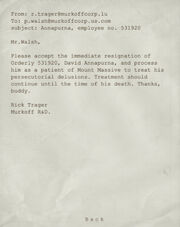 "From: r.trager@murkoffcorp.lu
To: p.walsh@murkoffcorp.us.com
Subject: Annapurna, employee no. 531920
Mr.Walsh,
Please accept the immediate resignation of
Orderly 531920, David Annapurna, and process
him as a patient of Mount Massive to treat his
persecutorial delusions. Treatment should
continue until the time of his death. Thanks,
buddy.
Rick Trager
Murkoff R&D."
Community content is available under
CC-BY-SA
unless otherwise noted.