Purge Gate Maintenance Memo is a document in Outlast.
It is located in a security room after traversing a window ledge in order to get to the other side of the iron bars where Miles encounters The Twins for the second time in Prison Block.
Content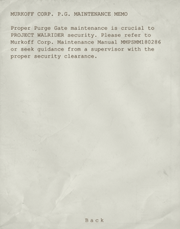 "MURKOFF CORP. P.G. MAINTENANCE MEMO
Proper Purge Gate maintenance is crucial to PROJECT WALRIDER security. Please refer to Murkoff Corp. Maintenance Manual MMPSMM180286 or seek guidance from supervisor with the proper security clearance."
Community content is available under
CC-BY-SA
unless otherwise noted.