Rain of Blood is a recording made in Outlast 2.
It is acquired by filming the blood raining down on the mining facility after first exiting the shack in Welcome.
Transcript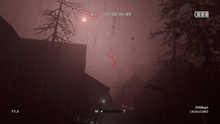 Blake: Raining blood. Dripping off her shoes, I think. No. Just... I tried not to step in the blood because I didn't want to leave tracks.
Trivia
If the player misses this recording in the Welcome sub-chapter, then it is possible to obtain it in the following two sub-chapters: The Ascension and King of The Hill.