Rest These Bones is a document in Outlast 2.
It is located on a bible stand in front of three graves in The Chapel. It is partially hidden in an area to the left of the pathway to the chapel.
Content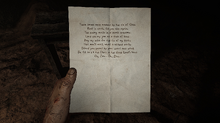 "These bones were marked by the sin of Cain.
Rest in earth till you rise again.
Lord use my jaw as a club of bone.
Pay my debt for the sin of my birth.
Hell won't wait, what a wicked earth.
Stand you guard by your heart and hand,
Be fit to kill the Devil in the Good Lord's land.
Oh, Zion... Oh, Zion..."