Satisfaction is a note in Outlast: Whistleblower.
It is acquired by recording Frank Manera yelling at Waylon through one of the hospital's windows in the Recreation Area.
Content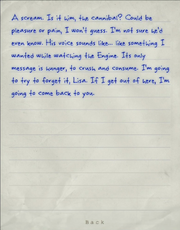 "A scream. Is it him, the cannibal? Could be pleasure or pain, I won't guess. I'm not sure he'd even know. His voice sounds like... something I wanted while watching the Engine. Its only message is hunger, to crush and consume. I'm going to try to forget it, Lisa. If I get out of here, I'm going to come back to you."