Temple Gate Act of Contrition is a document in Outlast 2.
In the area where Blake is required to escape from Marta by pushing a carriage towards a gate in The Chapel, this document is hidden in a corner on a bible stand next to a barrel fire.
Content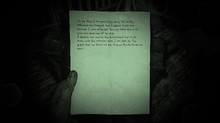 "Oh my God, I am heartfully sorry for having offended the Prophet, and I detest those sins because I have offended Thee my God, who is all good and deserving of my love.
I deserve and cherish thy punishment and invite more, until the occasion that I am able by Thy grace and the Grace of the Prophet Knoth to sin no more."