The Doctor is Dead is a note in Outlast.
It is acquired by recording a Variant talking about a dead doctor in the Sewer.
Content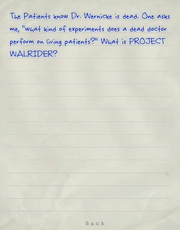 "The Patients know Dr. Wernicke is dead. One asks me, 'what kind of experiments does a dead doctor perform on living patients?' What is PROJECT WALRIDER?"