The Pride of Wisdom is a document in Outlast.
It is located at the reception desk, next to a dead guard in the Underground Lab.
Content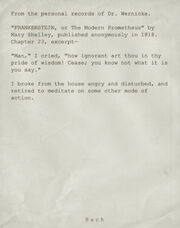 "From the personal records of Dr. Wernicke.
"FRANKENSTEIN, or The Modern Prometheus" by Mary Shelley, published anonymously in 1818.
Chapter 23, excerpt –
"Man," I cried, "how ignorant art thou in thy pride of wisdom! Cease; you know not what it is you say."
I broke from the house angry and disturbed, and retired to meditate on some other mode of action."
Community content is available under
CC-BY-SA
unless otherwise noted.