The Show Room is a recording made in Outlast 2.
It is acquired by filming a woman chained to a bed in The Chapel.
Transcript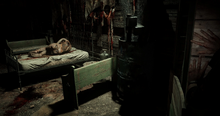 Blake: I guess this is where the magic happens. Chairs for an audience to watch. I only saw her afterwards. I couldn't have...
Trivia
The woman in the recording appears to share the same model with Mary. Whether it is actually her, or simply Red Barrels recycling models is unclear.