To Marta, My Avenging Angel is a document in Outlast 2.
Immediately after obtaining the hook in the slaughterhouse in The Road to the Mine, this document can be picked up by jumping into the meat railing room where the hook is obtained.
Content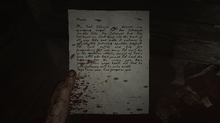 "Marta,
My best beloved, my hound, my
avenging angel. Val has betrayed
Temple Gate. Has betrayed God. Has
betrayed me. Look deep into the heart of
all you hate and make it violence to
punish that festering apostate pigfuck.
Val must suffer and beg for
forgiveness that you deny. Val must die
in the darkness utterly devoid of God's
love. All who have joined Val must die
begging for mercy you have
purged from your heart. Let God be
merciful, you will be only wrath.
Papa loves you, God forgives you.